Discover more from America, America
Essays of alarm and hope, on politics and society, democracy and justice. With passion and urgency.
Over 43,000 subscribers
Free Media for a Criminal Defendant
Major media organizations must not repeat their sins in promoting Trump like they did in 2016
In a whiplash-inducing flashback to the 2016 presidential campaign, CNN announced it's organizing a primetime town hall for Donald Trump in New Hampshire next week. The last time Trump appeared on the network—you know, the one he continuously called fake news and about which he posted the kind of violent videos and hateful rhetoric that inspire stochastic terrorism—was in 2016. That was before the deadly insurrection and coup attempt, before two impeachments, before 34 criminal indictments, before racking up over 30,000 documented lies and catalyzing a cascade of other criminal charges likely heading his way.
But none of that appears to discourage CNN from exploiting the Republican frontrunner, just as its executives and other top media organizations were more than willing to give him billions of dollars of free media in 2016, even as (or arguably because) he abused and insulted and violently incited his way through the primaries. Ratings and profits are everything, amiright?
Let's not doubt the precarious reality confronting news media, in which they must (as we all must) navigate a path forward with a criminal defendant who's more than ready to exploit his public platform to incite violence, threaten murder, and attack prosecutors and juries and anyone else who crosses him—and who nonetheless is leading every GOP poll for the party's nomination to become president again.
Ignore him? Amplify him? Put him on the air and interview him with toughness and surgical precision? These are real questions tempered by the pressure to drive ratings and stimulate clicks—and riddled with ethical problems for everyone who worries for democracy's future and frets over the continuing dangers of violence, extremism, nationalism and the dark specter of fascism.
Lest we forget the lip-smacking pleasure of TV executives in 2016, CBS's CEO Les Moonves perfectly encapsulated the mentality that helped advance Trump's quest for power. "It may not be good for America, but it's damn good for CBS," Moonves said to a crowd of media and tech insiders in February 2016. "I've never seen anything like this, and this is going to be a very good year for us. Sorry. It's a terrible thing to say. But, bring it on, Donald. Keep going."
Next week and in the coming months, let's keep in mind how the media's attraction to Trump provided a glide way to the Republican nomination in 2016 and ultimately to the White House—and how there's a risk, despite everything we've learned, of this happening again. Consider: As much as many of us were fascinated and encouraged by the Manhattan district attorney's indictments and subsequent arraignment a month ago on April 4, was it really necessary to provide wall-to-wall aerial coverage of Trump's plane and motorcade traveling from Florida to the New York courthouse?
On March 15, 2016, The New York Times documented how Trump had come to rely on nearly $2 billion in free media by then, more than double his eventual opponent Hillary Clinton, six times more than Bernie Sanders, and nine times more than each of his two top GOP competitors at that time, Jeb Bush and Marco Rubio.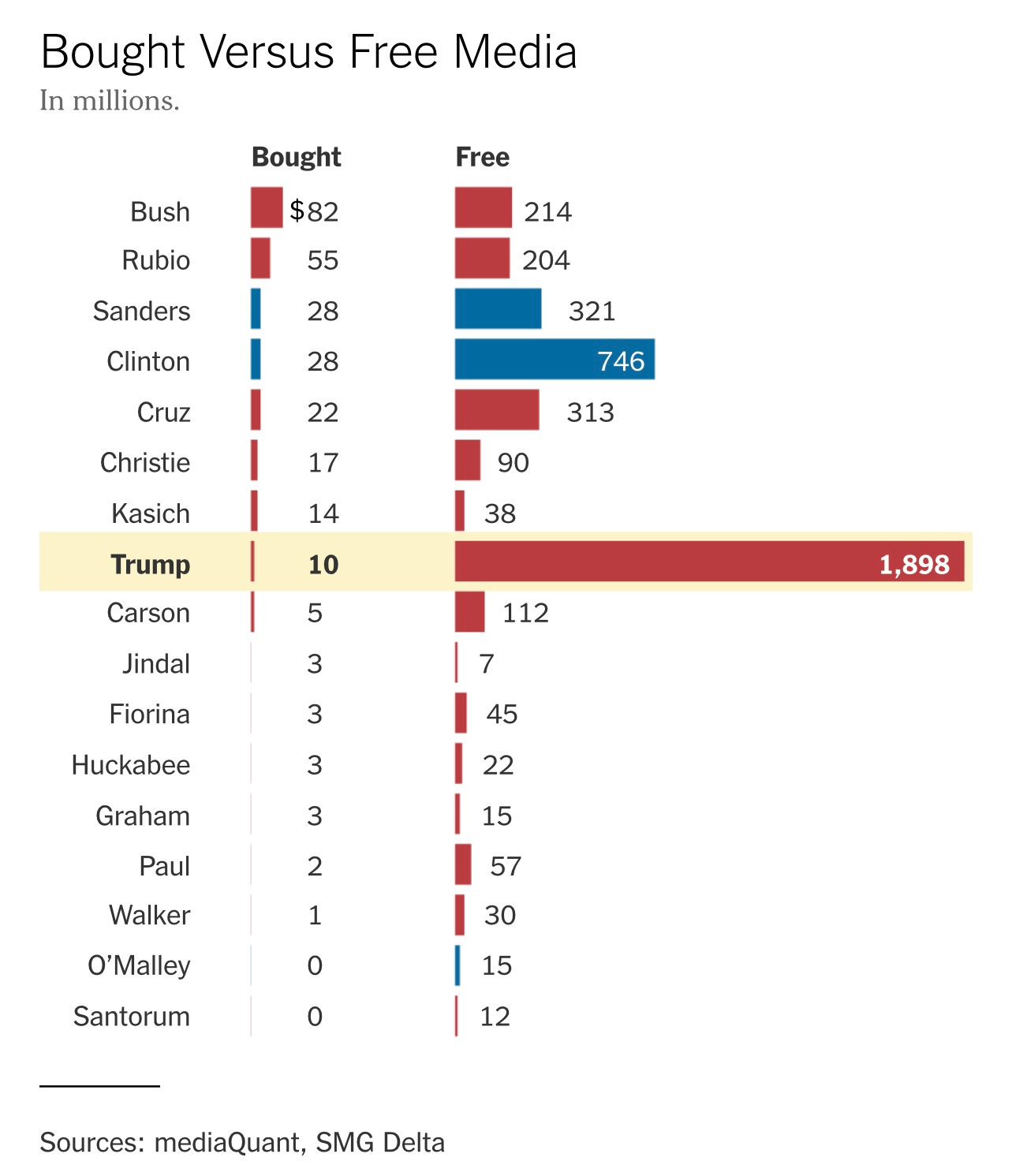 As Times reporters Nick Confessore and Kim Yourish put it then:
Of all the ways Donald Trump has shocked the political system, one of the most significant is how he wins primary after primary with one of the smallest campaign budgets. He still doesn't have a super PAC. He skimped on ground organization and field offices. Most important, he spent less on television advertising—typically the single biggest expenditure for a campaign—than any other major candidate.
And that trend—of media serving up candidate Trump to the public for free—only accelerated as it moved toward and into the general election. As Open Secrets documented in 2017, Trump's campaign cost about half of Clinton's—$398 million versus $768 million. "Clinton outpaced Trump in campaign committee spending as well as party support; and her outside spending firepower was especially impressive, as single-candidate groups backing Clinton spent more than triple the amount that those in favor of Trump spent."
Yet from July 2015 through October 2016, Trump received free media worth more than $5.9 billion, while Clinton received less than half that, under $2.8 billion. Her campaign's fundraising was no match for the slavish, often uncritical attention showered on Trump.
Next week, when CNN host Kaitlin Collins is scheduled to facilitate the conversation, we can hope that she confronts him with his criminality and the dangerous role he's had in accelerating lawlessness, cruelty and violence, including the current 34 counts of business fraud, the civil trial involving defamation and assault over his alleged rape of writer E. Jean Carroll, and his continuing lies about the outcome of the 2020 election. We can hope she uses this platform to stand up for democracy and against the dangers of fascism.
But more than that—more than simply hoping for serious journalism by TV anchors—we must demand that the major media organizations acknowledge their outsized role in promoting Donald Trump before, and their obligation to be more circumspect in how and when to amplify him now.
America, America is sustained by paid subscriptions, making it possible to keep nearly all the writing available for everyone. If you're not already a paid subscriber, I hope you'll consider becoming one.