Discover more from America, America
Essays of alarm and hope, on politics and society, democracy and justice. With passion and urgency.
Over 43,000 subscribers
An Insult to America
Five reasons Jim Jordan doesn't belong anywhere near the Speaker of the House job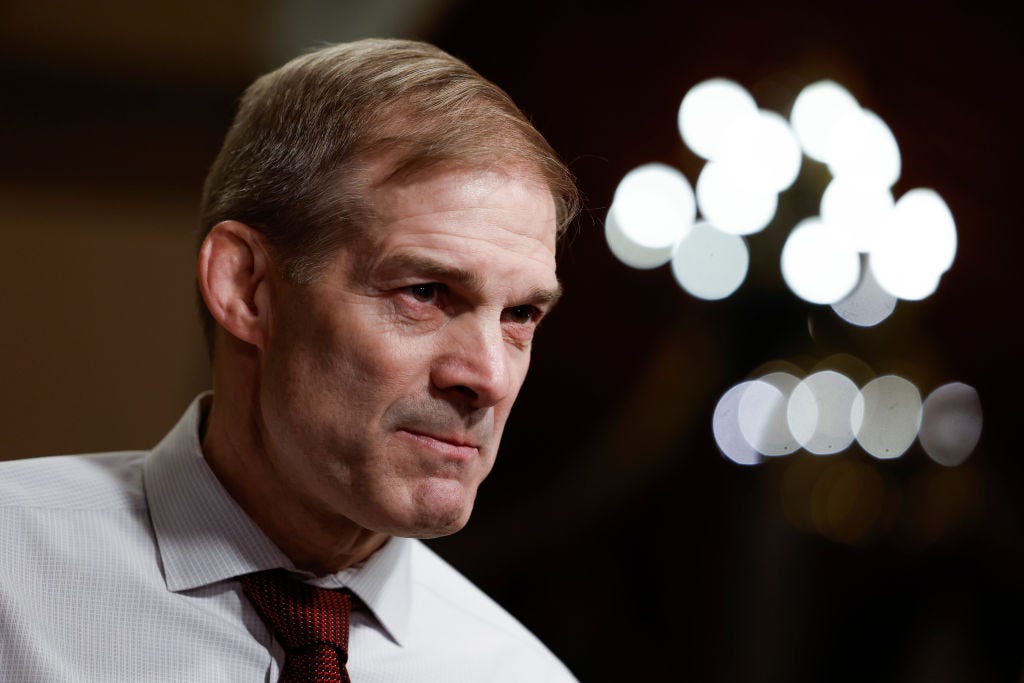 Jim Jordan is the best that the Republicans have to offer for House Speaker? This is not just embarrassing—this is an insult to anyone who cares about democracy, justice and basic human decency. This is a guy—an angry bully, really—who has shown he's more concerned with kowtowing to Donald Trump and trashing Democrats than serving the country.
Forwarding Jim Jordan, a founder of the hard-right Freedom Caucus, as the next Speaker of the House seems like a joke, a parody of legislative procedure. It would be almost funny if it weren't so dangerous. Consider the summation of a fellow Ohioan and former Speaker of the House, John Boehner. In a Politico profile after leaving the speakership in 2017, Boehner called Jordan an "asshole" and "a legislative terrorist." It hasn't gotten better since then.
But here we are: A vote on the House floor is expected on Tuesday. This despite the secret-ballot vote after Rep. Steve Scalise dropped out. Reportedly, 55 House Republicans said they would oppose Jordan for the speakership. According to Politico, though, Jordan allies believe "there are about a dozen hard 'no' votes," while his opponents estimate about 20 oppose him.
In an effort to put this vote in context, here are five reasons why Jim Jordan doesn't belong anywhere near the House Speaker job.
Count me among those who believe there are better ways to take power, but it's no surprise the Republicans are scheduled to vote tomorrow on one of their leading chaos agents and bullies. Goodness knows, they've shown little interest in governance.
What about you? Are there other reasons that you think explain why Jordan doesn't belong anywhere near the speakership? Please do be respectful in your comments.
If you can afford to chip in $50 a year or just $5 a month for a paid subscription, I hope you will. This sustains the work of America, America, keeps nearly all the content available for everyone, and gives you full access to the comments section for every post.